THE CENTER OF GRAVITY FOR ENTREPRENEURS IN TEXAS
Young Founders Stories – Fort Worth
Founders Stories is a monthly series open to all entrepreneurs! From idea to exit or somewhere in the middle, we'll talk with startup founders about what it takes to start a successful company.
Every month we'll choose founders to give their story— which includes their successes, failures and even the grey areas along the way.
This month you'll hear from two young founders around North Texas about their journey in tech!
SPEAKERS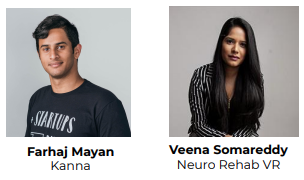 Farhaj Mayan is the Co-Founder of Kanna, a managed marketplace for gig workers in Cannabis. He is a UI/UX designer, product owner and passionate storyteller. Previously, he worked as an early employee at 3 startups (VR, Experiential Marketing, Drones) before co-founding his first venture Fade, a barber booking marketplace that launched in DFW and grew to early revenue.
Veena Somareddy is an experienced Chief Technology Officer with a demonstrated history of working in the computer software industry. She is the Co-Founder and CTO at Neuro Rehab VR, a VR healthcare start-up aimed at building virtual/augmented reality training exercises for patients with neurological disorders. Using her many years of research and development experience in VR/AR, she is helping to connect technology and healthcare to enhance patient care and rehabilitation outcomes greatly.
No Appointment Necessary
Stop by for a tour any Tuesday, Wednesday or Thursday at 4pm. We're located at 7th and Brazos in the middle of downtown Austin. Get Directions