THE CENTER OF GRAVITY FOR ENTREPRENEURS IN TEXAS
***New Date!!*** Texas Dialogue on Innovation in Defense | Presented by IBM rescheduled to Thursday, March 4, 2021, 1:30 to 3:30pm.
Due to the recent weather in Texas and the lingering effects, IBM and Capital Factory will postpone the Texas Dialogue on Innovation in Defense (TDID) presented by IBM until Thursday, March 4, 1:30pm-3:30pm. We apologize for any inconvenience this might cause you and hope the delay will give all participants time to regroup.
Focusing on the lasting impacts of 2020 and Project Convergence, TDID will ignite conversation around defense innovation in Texas in a lead-up to Capital Factory's Fed Supernova (March 9 – 10). We hope to see you at both events.
Created by IBM, TDID will provide a rich dialogue centered around Defense Innovation and Project Convergence in preparation for Capital Factory's Fed Supernova event (March 9 – 10). The discussion will focus on how 2020 changed the Defense Ecosystem, and how non-profits, academia, industry, and the military can pivot to help enable success in Defense Innovation.
WHO
Anyone interested in the Texas Defense innovation ecosystem, including national security, military, and corporations interested in Defense and federal government, startup leaders, academics, and Capital Factory members
WHEN
March 4th, 2021 1330-1530 CST
WHAT TO EXPECT
1330 – Welcome/Introduction – COL(R) Brian Cook
1345 – Keynote Remarks – Dr. (SES) Doug Matty – followed by Q&A period (15min present + 15min Q+A)
1415 – Break and Networking
1420 – Panel Discussion – Joseph Kopser, Brenden Mullen, Jason Kelley followed by Q&A period (15-20 min)
1510 – Concluding Comments with COL (R) Cook
Featured Speakers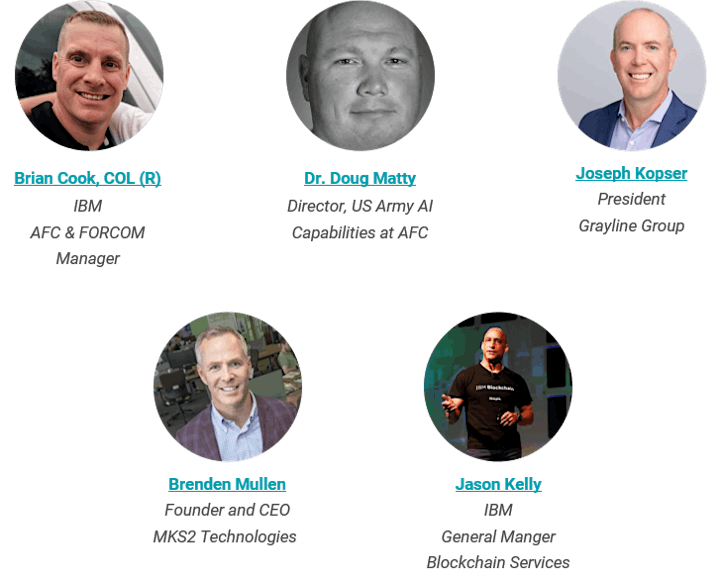 Fed Supernova is a virtual-first conference highlighting defense innovation in Texas.
About this Event
This interactive experience will draw national attention and connect leading entrepreneurs, investors, thought leaders, corporations, and decision-makers from around the world.
Fed Supernova is the synergy of combining Capital Factory's Texas Startup Manifesto with the massive defense industry momentum in Texas from Army Futures Command, AFWERX, Defense Innovation Unit, the National Geospatial-Intelligence Agency, Texas Military Department, and many others.
The event will culminate in the $100,000 Autonomous Drones & Mobility Investment Challenge focused on startups whose technologies leverage hardware and/or software solutions to enhance the future of autonomous systems and mobility. The challenge will include five technology startup finalists that will be judged by a panel of successful entrepreneurs, defense industry leaders, and venture capitalists. One will walk away with a $100,000 investment! Startups, submit your application today!
What Can I Expect?
• Keynotes and panels from visionary innovators
• Epic Office Hours – Consider it speed dating with entrepreneurs. Some of the most successful entrepreneurs, top figures, and investors will be here for lightning round mentor sessions with YOU! Applications are now open!
• Government representatives from Army Futures Command, AFWERX, Texas National Guard, DIU, NGA, and more!
• Capital Factory's $100,000 Investment Challenge
Why Should I Attend?
Startups – Not headquartered in Texas? No worries! Startups from all over the world can join. Fed Supernova will be full of hungry investors, curious corporations, and future-proof founders all vying for the next big startup. Learn how to work with the government and unlock an entirely new funding frontier. Meet your first customer, co-founder, investor, or employee!
Investors – Get inspired by hot new trends in several tech spaces while scouting fresh tech and intriguing startups. Fed Supernova represents a can't-miss learning opportunity to become better equipped to make smarter investments.
Corporates – Want to see and experience something bleeding edge? Talk to our startup founders and network with other innovative corporations, academia, military, and investors to recalibrate your view of what's possible.
Military – Join your DoD colleagues and Corporations while scouting cutting-edge tech and prime talent, all while traversing a virtual landscape with opportunities to learn, grow, and network. Learn how to properly work with startups!
Tracks
• Quantum Computing
• Space presented by Microsoft
• Digital Engineering / MBSE Track
• Autonomy & Drones
Check out last year's Fed Supernova presented by Deloitte!
Have a question?
We have an answer! Check out our Fed Supernova FAQ here
All tickets are non-refundable.