THE CENTER OF GRAVITY FOR ENTREPRENEURS IN TEXAS
Alternatives to VC Funding in Dallas & Ask Me Anything – Dallas
Are you an entrepreneur starting a new company? Recently moved your company to Texas? Join us at Capital Factory + The DEC for happy hour and a live AMA all about Alternative Resources to VC Funding in Texas! Come hear an overview from experienced entrepreneurs, venture capitalists, large bankers and angel investors and get a chance to introduce yourself and ask questions.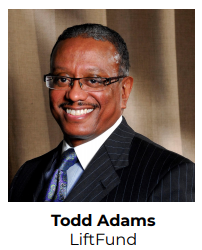 Todd Adams is currently the Sr. Business Development Officer for LiftFund, the largest Community
Development Finance Institution in the United States, with locations in 13 states and growing. Todd has
been in the Banking/Financial Arena since 1989, beginning his Professional Banking Career with
NCNB/NationsBank, nka Bank of America. Todd went on to work for several other major financial
institution such as Wells Fargo, JPMorgan Chase and BBVA Compass Bank as a Vice President, managing
Branch locations for each perspective Institution.
YOU'LL GET ANSWERS TO QUESTIONS LIKE…
How to crowdsource?
Should I do an equity round or convertible note?
Different ways to raise capital without VC Funding?
How much should I ask for if I apply for a bank loan?
How do I figure out my valuation?
Best practices for applying for loans?
What will it cost?
YOU WILL FIND OUT ABOUT…
Why Texas
Capital Factory
Dallas Venture Capitalists
Angel Investors
Venture Capitalists
Incubators & Accelerators
Pitch Events
Syndicates
PARKING
Please go here for more information about parking at Capital Factory.
HAVE QUESTIONS?
Email trietnguyen@capitalfactory.com with the subject line: Alternatives to VC Fundraising AMA Questions!