THE CENTER OF GRAVITY FOR ENTREPRENEURS IN TEXAS
Intro to Consumer Products/Services in Dallas & Ask Me Anything – Dallas
Are you an entrepreneur starting a new company? Recently moved your company to Texas?
Join us at Capital Factory + The DEC for happy hour and a live AMA all about consumer products and services in Texas! Come hear an overview from experienced entrepreneurs, venture capitalists, serial entrepreneurs and angel investors. You'll get a chance to introduce yourself, mingle and ask questions!
SPEAKERS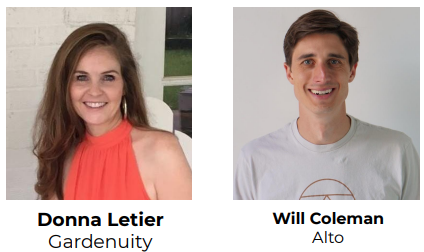 Will Coleman is the Founder and CEO of Alto, a new ride-sharing service based in Dallas, TX focused on redefining the ridesharing experience. Will is a former Partner at McKinsey & Company where he led their B2C travel practice to build disruptive strategies into the marketplace. For more than 10 years he has supported Airline, Hotel and Car Rental clients on commercial and operations strategy development and implementation. Will is a proud graduate of the University of Texas and a Dallas native.
Donna Letier is the Founder and CEO of Gardenuity, Donna combines a data and strategy-driven approach, with a consumer-centric view bringing visionary products and brands to market. Her proven ability to create connections between products and consumers ensures a smart perspective for solid businesses, that are operationally intuitive and aligned with consumer trends and technology innovation.
YOU'LL GET ANSWERS TO QUESTIONS LIKE…
How to get plugged into CPG in Dallas?
Should I focus on user traction or user growth?
Different ways to raise capital without VC Funding?
How important is branding at the early stage?
How do I figure out my valuation?
Best practices for applying for loans?
What will it cost?
YOU WILL FIND OUT ABOUT…
Why Texas
Capital Factory
Dallas Venture Capitalists
Angel Investors
Venture Capitalists
Incubators & Accelerators
Pitch Events
Syndicates