THE CENTER OF GRAVITY FOR ENTREPRENEURS IN TEXAS
Intro to Fundraising & Ask Me Anything
Description
Fundraising for your tech startup? Join us for happy hour to hear an overview from experienced entrepreneurs, venture capitalists, and angel investors at our next Intro to Fundraising in Texas & Ask Me Anything! Get a chance to introduce yourself and ask any questions on funding and other related topics.
SPEAKERS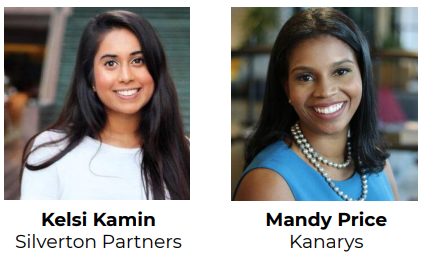 Kelsi Kamin works on the investment team at Silverton Partners, the leading early-stage venture capital firm based in Austin, TX. At Silverton, she sources new investments, supports due diligence, and oversees the firm's business development activities. Prior to joining Silverton, Kelsi was a Venture Associate at Capital Factory, where she worked to build their Accelerator and Fund portfolios and helped them expand into Dallas/Fort Worth.
Mandy Price (she/her/hers) is an advocate for diversity, equity, and inclusion (DEI) as the CEO and co-founder of Kanarys, Inc. Kanarys is a technology platform that fosters collaboration between companies and employees on DEI in the workplace. Kanarys allows company partners to measure its performance against DEI benchmarks and identify areas of improvement and growth, by gathering and analyzing cultural and demographic data, industry rankings and trends.
You'll get answers to questions like…
How do I meet my first investors?
Should I do an equity round or convertible note?
Should I join an accelerator?
How do I figure out my valuation?
How long will it take to raise funding?
What will it cost?
You will find out about…
Why Texas
Capital Factory
Dallas Venture Capitalists
Angel Investors
Incubators & Accelerators
Pitch Events
Syndicates