THE CENTER OF GRAVITY FOR ENTREPRENEURS IN TEXAS
Bill Kilday "Never Lost Again: The Google Mapping Revolution That Sparked New Industries and Augmented Our Reality
Join us for an exclusive book signing with Bill Killday of his new book Never Lost Again where he takes us behind the scenes of the tech's development, and introduces us to the team that gave us not only Google Maps but Google Earth, and most recently, Pokémon GO.
About the author: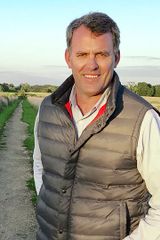 Bill Kilday's twenty-five-year career in technology and game marketing has centered on maps and augmented reality. He served as marketing director for digital mapping start-up Keyhole, and marketing lead for Google's Geo division during the launch of Google Maps and Google Earth. He is currently VP of marketing for Niantic Inc., a spinout company from Google responsible for GPS-based games Ingress, Pokémon GO, and the upcoming Harry Potter: Wizards Unite. The youngest of eight children, Kilday was born in Houston, Texas, and now lives in Austin, Texas, with his family. He has a terrible sense of direction.
Critical Praise:
"In Never Lost Again, Kilday takes us back to the origins of the Google mapping revolution, offering a personal, insider's account of the startups, people and technologies behind it all. It's a wild ride, and they don't always take the most direct route, but they end up changing the way we navigate the world. It's a five-star trip!" — David Richter, Global Head of Business and Corporate Development, Uber
"Every would-be founder should take advantage of the hours saved by map technology and read this book. It is an epic of tradeshow demo hell, cash flow struggles, engineering brilliance and sheer perseverance that delivered one of the miracles of our age. It's a captivating yarn with insider details and story-telling other start-up books rarely seem to capture and bring to life." — Bing Gordon, Partner, Kleiner Perkins Caufield & Byers, and previous CCO of Electronic Arts
"Kilday makes you feel like you were there in person for the incredible rise of Google Maps and the geolocation industries that were built on top of it. Get the inside scoop on this world-changing technology from a talented storyteller who makes every page fun." — Joshua Baer, founder of Capital Factory
About the book:
As enlightening as The Facebook Effect, Elon Musk, and Chaos Monkeys—the compelling, behind-the-scenes story of the creation of one of the most essential applications ever devised, and the rag-tag team that built it and changed how we navigate the world
Never Lost Again chronicles the evolution of mapping technology—the "overnight success twenty years in the making." Bill Kilday takes us behind the scenes of the tech's development, and introduces to the team that gave us not only Google Maps but Google Earth, and most recently, Pokémon GO.
He takes us back to the beginning to Keyhole—a cash-strapped startup mapping company started by a small-town Texas boy named John Hanke, that nearly folded when the tech bubble burst. While a contract with the CIA kept them afloat, the company's big break came with the first invasion of Iraq; CNN used their technology to cover the war and made it famous. Then Google came on the scene, buying the company and relaunching the software as Google Maps and Google Earth. Eventually, Hanke's original company was spun back out of Google, and is now responsible for Pokémon GO and the upcoming Harry Potter: Wizards Unite.
Kilday, the marketing director for Keyhole and Google Maps, was there from the earliest days, and offers a personal look behind the scenes at the tech and the minds developing it. But this book isn't only a look back at the past; it is also a glimpse of what's to come. Kilday reveals how emerging map-based technologies including virtual reality and driverless cars are going to upend our lives once again.
Never Lost Again shows us how our worldview changed dramatically as a result of vision, imagination, and implementation. It's a crazy story. And it all started with a really good map.