THE CENTER OF GRAVITY FOR ENTREPRENEURS IN TEXAS
Capital Factory, in partnership with DivInc, welcomes you to our inaugural Black in Tech Summit on February 20, 2019. Capital Factory is committed to increasing diversity in the tech community and making our coworking space an inclusive and welcoming environment. The Black in Tech Summit is a day full of programming to help inspire, engage and elevate Black entrepreneurs, tech professionals and allies through insightful panels, interactive workshops, networking and a community showcase.
WHO IS THE EVENT FOR?
Black leaders, entrepreneurs and allies working in tech.
AGENDA
10:00 AM – 10:30 AM―Registration + Breakfast
10:45 AM – 11:15 AM―Keynote with Rodney Sampson
11:30 AM – 12:30 PM―"Building a Business" with Kelli Newman, A.J. Bingham, Lauren Washington, Mark Phillip and Sterling Smith
11:30 AM – 12:30 PM―"Legal Landmines Every Startup Should Avoid" with Jason Storck and Brandon Middleton-Pratt of WSGR
12:30 PM – 1:30 PM―Networking Lunch
1:30 PM – 2:45 PM―"Creating a Job Description With Google's Best Practices" with Camilo Moreno-Salamanca
3:00 PM – 3:45 PM―"Elephant in the Room: Fundraising While Black" with Preston James, Marcus Carey, Marcus Stroud, Ugwem I. Eneyo and Craig Cummings
4:00 PM – 4:30 PM―Lightning Talks with Airion Watkins-Clark, Harold Hughes, Isis Ashford, Jasmin Brand, Sam Ulu and Michael Odiari
4:30 PM – 4:55 PM―Founder Spotlight with Janice Omadeke, Gerald Youngblood and Bryan Chambers
5:00 PM – 6:00 PM―Happy Hour + Community Showcase
FEATURING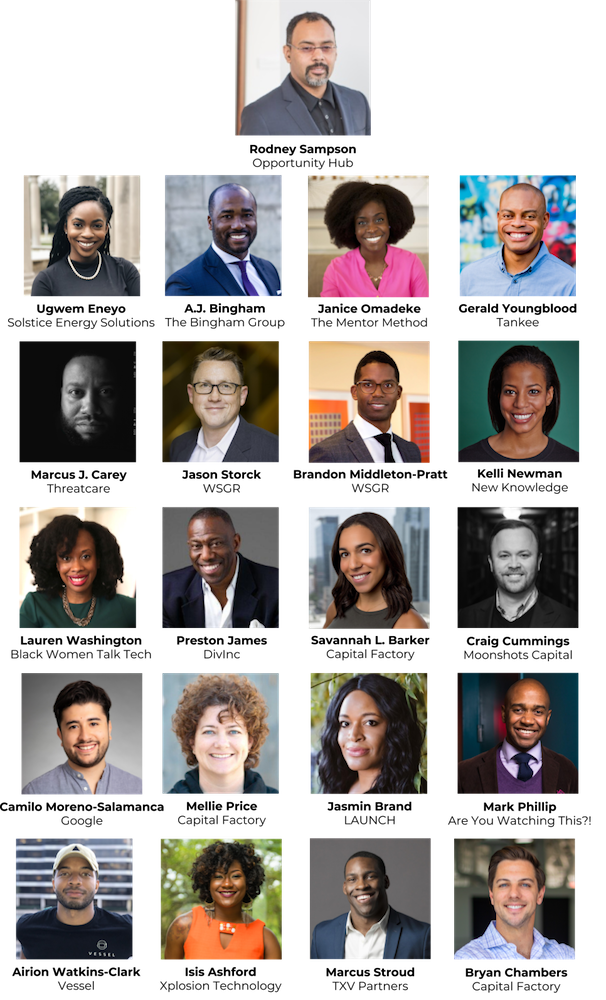 SPECIAL THANKS TO OUR PARTNERS