THE CENTER OF GRAVITY FOR ENTREPRENEURS IN TEXAS
Founders Stories Dallas with Nick Kennedy
Description
Founders Stories is a monthly series open to all entrepreneurs. From idea to exit or somewhere in the middle – we'll talk with startup founders about what it takes to start a successful company.
Every month we'll choose a founder to give their story – their successes, failures, and everything in-between.
This month, you'll hear from Nick Kennedy, Founder and CEO of RISEwhich was acquired by Surf Air in 2017.
Nick spent the first part of his life gathering stuff*; now his passion is walking with leaders on the longest journey of their lives, the 18 inches between their hearts and their minds, by sharing the truths that allow us to become fully integrated spouses, parents, friends, and executives.
Nick's career started with EDS, and then shifted to helping build successful ventures that were acquired by NCR and Nanthealth (IPO 2016). During that time, he accumulated over two million airline miles while losing hundreds of hours of productivity and time with family due to the highly inefficient and broken commercial airline industry. So they started an airline named RISE and flew thousands of executives on private planes by creating a two-sided marketplace that connected business executives and plane operators; think Uber for planes. More importantly, they gave their members the most valuable resource in the world, time, every time they flew with them.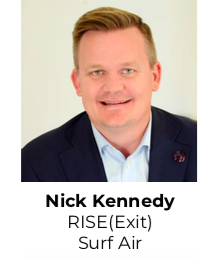 AGENDA
6:00pm – Event starts
7:15pm – Begin Q&A
7:45pm – Networking
PARKING
Please go here for more information about parking at Capital Factory + The DEC.
To apply for our next Accelerator, submit an application on AngelList here!
Interested in more of a general Capital Factory overview? This info session won't be for you. Check out one of our monthly AMA events, or reach out to our Memberships Coordinator, Oren Pajela, at orenpajela@capitalfactory.com to learn more about getting a membership.