THE CENTER OF GRAVITY FOR ENTREPRENEURS IN TEXAS
Founders Stories Dallas with TK Kader – Dallas
Founders Stories is a monthly series open to all entrepreneurs. From idea to exit or somewhere in the middle, we'll talk with startup founders about what it takes to start a successful company.
Every month we'll choose one founder to give their story— which includes their successes, failures and even the grey areas along the way.
This month you'll hear from TK Kader, Founder and CEO of ToutApp!
SPEAKER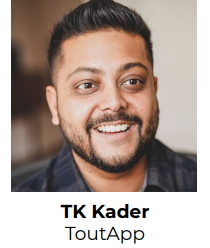 TK is an entrepreneur, angel investor and experienced tech executive. He is also the author of the book How to Punch the Sunday Jitters in the Face. TK founded ToutApp, which was backed by Andreessen Horowitz and Jackson Square Ventures. ToutApp was sold to Marketo where TK then served as SVP Strategy. Marketo was then sold to Adobe. TK now spends his time investing in early-stage startups and leading the Unstoppable Life movement.
AGENDA
6:00pm – Networking
6:30pm – Introduction
7:00pm – Questions & Continued Networking