THE CENTER OF GRAVITY FOR ENTREPRENEURS IN TEXAS
Intro to Fundraising & Ask Me Anything: Defense Edition with Craig Cummings
Are you an entrepreneur starting a new company? Recently moved your company to Texas? Wondering how to fundraise for your tech startup with government contracts?
Join us VIRTUALLY to hear an overview from experienced entrepreneurs, venture capitalists, and angel investors at our next Intro to Fundraising & Ask Me Anything: Defense Edition! Get a chance to introduce yourself and ask any questions on funding and other related topics.
Speakers: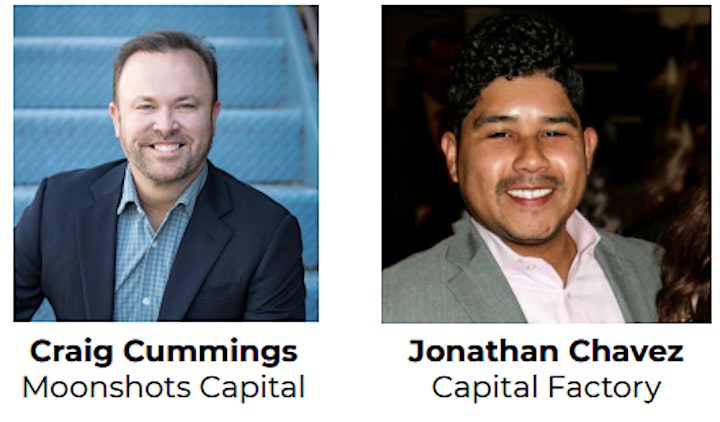 Craig Cummings is actively invests in technology start-ups, many of which are founded by military veteran entrepreneurs, through his venture capital firm, Moonshots Capital, which he co-founded with Kelly Perdew. Craig is the Co-Founder and former Chief Operating Officer of RideScout, a mobile app that showed users how to get from point A to point B by providing real-time ground transportation information. RideScout was acquired by Daimler (Mercedes-Benz) in September 2014. Before he became an entrepreneur, Craig spent 17 years in the Army, most of that time as an Intelligence Officer serving in support of the National Security Agency (NSA). Craig deployed to Afghanistan with the Joint Special Operations Command where he earned the Bronze Star.
Jonathan Chavez is a Dallas-based venture associate for Capital Factory, the center of gravity for entrepreneurs in Texas. Jonathan spends his time sourcing tech startups for Capital Factory's accelerator program and fund. Prior to Capital Factory, Jonathan spent six years in banking, most recently with J.P. Morgan's Technology & Disruptive Commerce Group, and Wells Fargo prior to that role. Additionally, Jonathan was part of the founding team of Neu Robotics, an autonomous UAV robotics company; his roles included business development, fundraising, and operations.