THE CENTER OF GRAVITY FOR ENTREPRENEURS IN TEXAS
Intro to Fundraising & Ask Me Anything: Fundraising Options with Nick Spiller & Matthew Wensing
January 7, 2020 @ 4:00 pm
-
7:00 pm
Fundraising for your tech startup? Come hear an overview from experienced entrepreneurs and angel investors at our next Intro to Fundraising in Texas & Ask Me Anything! Get a chance to introduce yourself and ask any questions on funding and other related topics.
You can check out the slides and video from previous talks before you come. The content is updated each month because the startup scene is always changing.
Already taken a tour of Capital Factory? Awesome! The event starts at 4:30 PM after the 4:00 PM tour.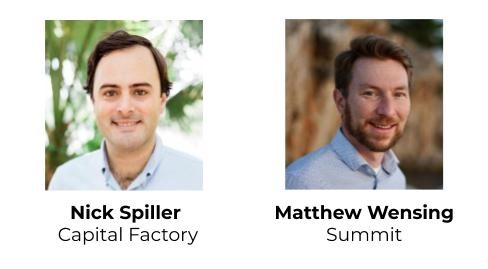 Nick Spiller is on The Grand Mission to help people reconnect with real world through unique, outdoor experiences. He also nurtures a global co-investor community for Capital Factory; the most active seed stage VC in Texas since 2014. The first chapter of Nick's startup journey was at The University of Texas at Austin where he founded the Longhorn Entrepreneurship Agency. He then went on to be a Market Launcher for Favor Deliver (acq. HEB). As an alumni of UT Austin, he helped create the first startup fund on-campus called Genesis which gives students the opportunity to invest like venture capitalists in other student startups.
Matthew Wensing is the Founder of Summit (https://usesummit.com), financial planning software as a service. Co-host of the "Out of Beta" podcast, and Founding CEO of Stormpulse. Enjoys writing code and essays about growth and new forms of capital.
AGENDA
4:00 PM Capital Factory Tour
4:30 PM Fundraising Presentation
5:00 PM Ask Me Anything with Joshua Baer and Adam Kahn
6:00 PM Fundraising Happy Hour
YOU'LL GET ANSWERS TO QUESTIONS LIKE…
• How do I meet my first investors?
• Should I do an equity round or convertible note?
• Should I join an accelerator?
• How do I figure out my valuation?
• How long will it take to raise funding?
• What will it cost?
YOU WILL FIND OUT ABOUT…
• Capital Factory
• Texas Angel Investors
• Texas Venture Capitalists
• Texas Incubators & Accelerators
• Startup Lawyers
• Startup Banks
• Pitch Events
• AngelList
• Syndicates
• Angels vs. VC's
• CTAN
• Crowdfunding
• Blogs to read