THE CENTER OF GRAVITY FOR ENTREPRENEURS IN TEXAS
Intro to Fundraising & Ask Me Anything with McKeever Conwell, II
Are you an entrepreneur starting a new company? Recently moved your company to Texas? Wondering how to fundraise for your company in 2021?
Join us VIRTUALLY to hear an overview from experienced entrepreneurs, venture capitalists, and angel investors at our next Intro to Fundraising & Ask Me Anything: Defense Edition! Get a chance to introduce yourself and ask any questions on funding and other related topics.
Speakers: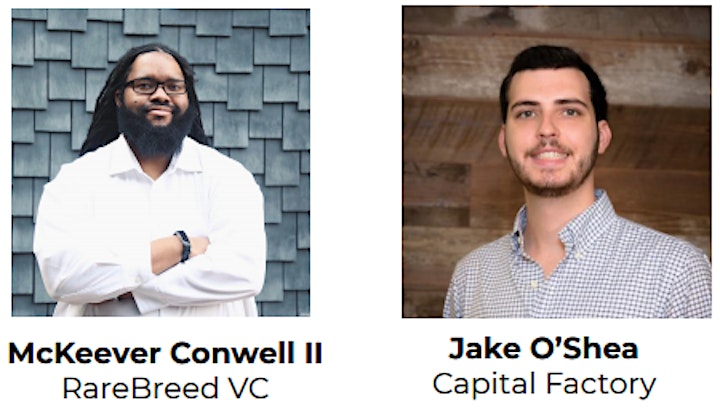 McKeever "Mac" Conwell II is a software engineer by trade and was a former DOD contractor with a top-secret clearance. He was a two-time founder with an exit and a failure. Next Mac moved on to the venture capital world via the Maryland Technology Development Corporation as part of their Seed Investment Team.During his four years there, Mac amassed experience leading an initiative to create the Minority Business Pre-seed Fund, the first and only, at the time, state-backed pre-seed fund for women and minorities in the country. The program institutionalized the friends and family round for black-, women-, and minority-led startups and was subsequently funded long-term by the state of Maryland. In September 2020, Mac founded RareBreed VC, a pre-seed fund that invests in exceptional founders outside of large tech ecosystems.
Jake O'Shea manages Capital Factory's Investor Relations program helping portfolio companies prepare to raise institutional capital and connecting them with the right investors. Since joining the Capital Factory team in May 2019, Jake has personally curated and coordinated over 3,000 individual meetings between startups and investors. Prior to joining Capital Factory, Jake worked with local Austin startups Lawgix and Brobe International and was also on staff at SXSW. Jake is an active mentor with the Social Entrepreneurship Learning Lab at the University of Texas and an alumni evangelist for UT's first early-stage investment fund, Genesis.