THE CENTER OF GRAVITY FOR ENTREPRENEURS IN TEXAS
Intro to Fundraising in Texas & Ask Me Anything
Fundraising for your tech startup? Join us VIRTUALLY to hear an overview from experienced entrepreneurs, venture capitalists, and angel investors at our next Intro to Fundraising in Texas & Ask Me Anything! Get a chance to introduce yourself and ask any questions on funding and other related topics. We'll have venture capitalists from Dallas, Austin, and Houston on this panel!!
**IMPORTANT NOTE: This event will be VIRTUAL only.
CLICK HERE FOR THE VIRTUAL LINK TO THE EVENT!!
ATTENDEE PASSWORD: TEXAS_2020
SPEAKERS: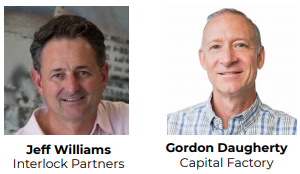 Jeff Williams has over 20 years of investing experience in the areas of mezzanine, private equity and venture capital. In addition to his investing experience, Mr. Williams has extensive operating experience from serving as the CEO of companies in the property & casualty, financial and technology sectors. Mr.
Williams has been involved in over 40 transactions representing over $2 billion in enterprise value
throughout his career. Jeff serves on the University of Texas at Dallas Institute of Innovation and
Entrepreneurship Board, the Southern Methodist University Cox School of Business Venture Fund Board
and is the founder of the Dallas Founders Fund.
Gordon Daugherty is a best-selling author, seasoned business executive, entrepreneur, startup advisor and investor. He has made more than 200 investments in early-stage companies and has been involved with raising more than $80 million in growth and venture capital. From his 28-year career in high tech, Gordon has both an IPO and a $200-million acquisition exit under his belt. Now, as co-founder and president of Austin's Capital Factory and as author of the book "Startup Success", Gordon spends 100 percent of his time educating, advising, and investing in startups.
Have questions beforehand? Email trietnguyen@capitalfactory.com with the subject line Fundraising AMA Questions!