THE CENTER OF GRAVITY FOR ENTREPRENEURS IN TEXAS
Pegasus Park: Improving Incomes and Outcomes in North Texas
Join us VIRTUALLY to hear how Biotech+ Hub at Pegasus Park can help entrepreneurs, scientists, and researchers secure funding in Texas!
Pegasus Park has reserved more than 30,000 SF of state-of-the-art, flexible lab, training and office space to serve as the epicenter for regional life science innovation and to enable biotech trailblazers in their pursuit of the next big scientific breakthrough. For many years, local entrepreneurs, scientists, and researchers have moved to the east or west coasts to launch their enterprises due to easier access to funding and resources.
The Biotech+ Hub at Pegasus Park allows them to stay in North Texas to develop their new ventures. Benefits to the local communities will include a surge in top-quality and high-paying technical jobs, an increase in intellectual capital, and a rise in access to cutting-edge healthcare. The "plus" in Biotech+ Hub at Pegasus Park refers to the broadest definition of bio-innovation across life sciences to include new drugs, diagnostic tools, devices, and digital solutions to prevent, detect, and treat diseases and promote human and planetary health.
This ambitious development requires a united coalition of scientists, entrepreneurs, venture capitalists, academia, health systems, philanthropists and government. During this session, leaders from the Biotech+ Hub will explore why the time is now for Biotech+ Hub and what you can do to support biotech entrepreneurship in North Texas.
SPEAKERS: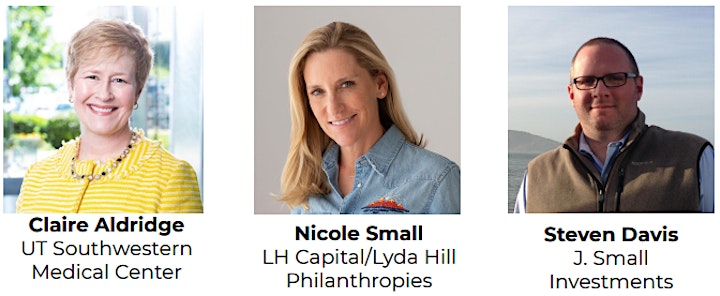 Claire Aldridge, Ph.D. serves as Associate Vice President for Commercialization and Business Development at UT Southwestern Medical Center. She recently rejoined UT Southwestern after eight years with Remeditex Ventures, a local biotech venture fund. Dr. Aldridge brings more than 20 years' experience facilitating the translation of scientific discoveries into patient and commercial benefits. Dr. Aldridge has leveraged her training as a translator, or liaison, between scientists and non-scientists, communicating effectively about the potential of science. Her roles have included technology commercialization; improving patient outcomes through quality based initiatives; working with disease-specific nonprofits; development and venture philanthropy; and biotech and life science investing through venture capital.
Nicole Small serves as CEO of LH Capital/Lyda Hill Philanthropies. Small is responsible for overseeing the strategic direction of both entities, including investment and philanthropic activities. Ms. Small is the co-founder of the If/Then Initiative, which seeks to further advance women in STEM by empowering current innovators and inspiring the next generation of pioneers. From 2001-2013, Small was the CEO of the Perot Museum of Nature and Science and has previously held positions including founder and CEO of an internet start-up, Entrepreneur in Residence at an incubator, and analyst with McKinsey & Company.
Steve Davis serves as President, Chief Operating Officer, and General Counsel of J. Small Investments ("JSI"), a real estate investment firm located in Dallas, Texas. At JSI, Steve is responsible for the day-to-day operations of the company as well as all legal aspects of JSI's portfolio (including acquisitions, dispositions, leasing, and debt), and all litigation matters. His experience includes representing real estate investors, developers, borrowers and lenders with regard to a wide variety of commercial real estate. Steve also has an extensive litigation background, including a specific focus on real estate-related litigation.