THE CENTER OF GRAVITY FOR ENTREPRENEURS IN TEXAS
UK Immersive Pitch & Demo

US and international commissioners, distributors, investors and potential collaborators are invited to join some of the UK's top immersive content creators for an afternoon of business-focussed lightning talks, XR prototype demonstrations, networking and cocktails.
This event is part of the UK Research and Innovation US Immersive Mission and the Arts Council England and British Underground Future Art and Culture programme, and is powered by Digital Catapult.
EVENT SCHEDULE
2:00 pm – Registration and Networking
2:30 pm – Pitch Session
4:00 pm – Networking and XR Demos
5:00 pm – Event Close
PITCH SESSION
Representatives from some the UK's most exciting commercial, cultural and academic organisations, currently working in the immersive space, will take the stage at Capital Factory to make lighting talks.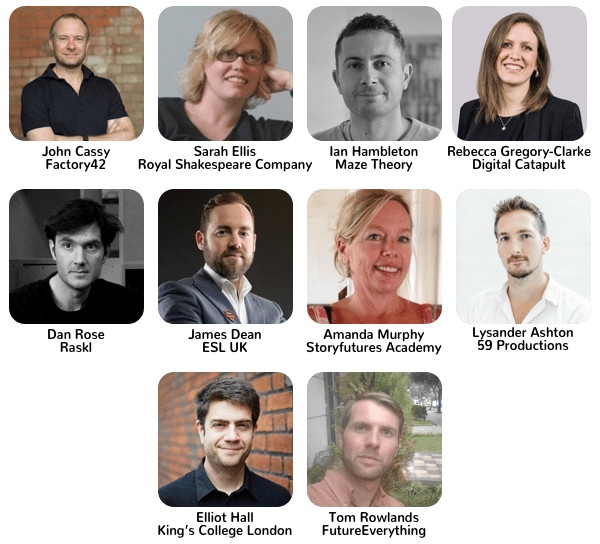 Sharing overviews of their ground-breaking new projects and pitching for support to an invited audience of over 100 influencers, producers, technologists, and investors from the creative and immersive technology industry, presentations include:
• Sarah Ellis, Director Of Digital Development – Royal Shakespeare Company
• James Dean, Managing Director – ESL UK
• John Cassy, CEO – Factory42
• Rebecca Gregory-Clarke, Head of Technology, Immersive – Digital Catapult
• Lysander Ashton, Director – 59 Productions
• Dan Rose, Design & Director – Raskl
• Ian Hambleton, CEO – Maze Theory
• Tom Rowlands, Producer – FutureEverything
• Amanda Murphy, Executive Producer – National Centre for Immersive Storytelling / Storyfutures Academy
• Elliot Hall, Senior Developer – King's College London / Digital Ghost Hunt
• Kevin Beimers, Director – Italic Pig
XR PROTOTYPE DEMOS
Featuring early-stage and experimental work funded by UKRI, the demos aim to explore the future of immersive content.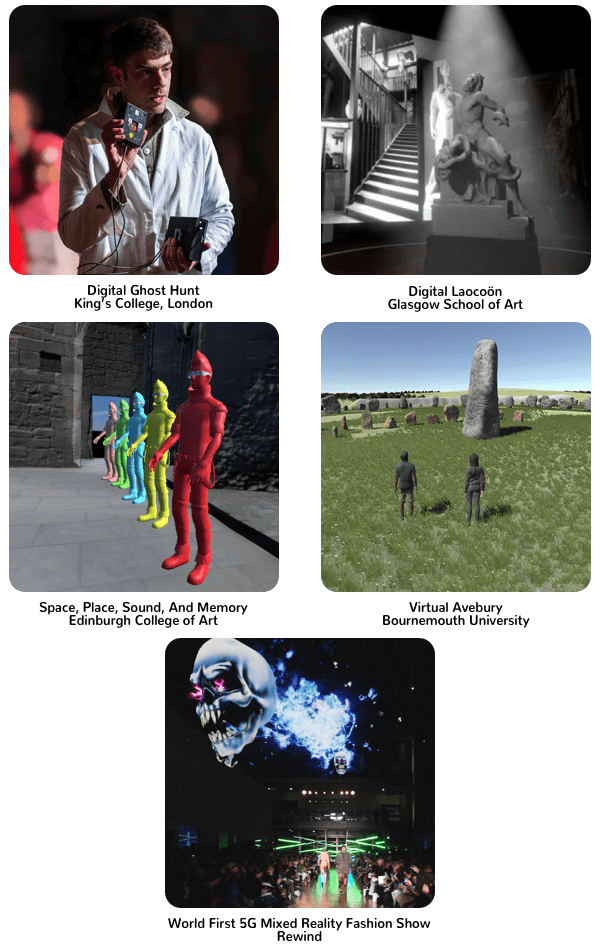 Explore an English heritage site that rivals Stonehenge, search for ghosts in the Capital Factory and examine artifacts from the Glasgow School of Art's iconic Mackintosh Building, which was tragically burnt to the ground in 2018 – amongst other exciting new immersive experiences:
• Dr Who "Blink" VR demo (Maze Theory)
• World's First 5G Mixed Reality Fashion Show – Magic Leap XR (Rewind)
• Digital Ghost Hunt (King's College London)
• Digital Laocoön (Glasgow School of Art)
• Space, Place, Sound, And Memory (Edinburgh College of Art)
• Virtual Avebury (Bournemouth University)
A NOTE ON ATTENDANCE
This is a free event, which means we overbook to allow for no-shows and to avoid empty seats. While we generally do not have to turn people away, this does mean we cannot guarantee everyone a place. Admission is on a first come, first served basis.