THE CENTER OF GRAVITY FOR ENTREPRENEURS IN TEXAS
Ultra Electronics Lunch and Learn
Join us on November 13 for an interactive Lunch and Learn about the current and future benefits and limitations of AI brought to you by Ultra Electronics! Dr. Andrew Puryear will discuss technology advances such as Artificial Intelligence and Machine Learning, the Artificial Intelligence Revolution and how these technologies can enable improved decision making processes and outcomes.
He will give a deeper look into some of the foundations of AI and how it can assist in delivering the most critical information to the right place at the right time, as well as discussing areas where AI tools may not be effective.
---
SPEAKER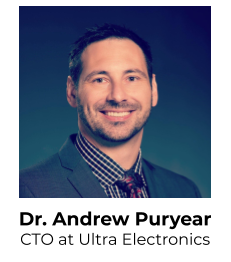 Dr. Andrew Puryear is the CTO for Ultra Electronics Communications & Security, where he is responsible for technology leadership, product and technology roadmaps, and operational delivery. Prior to joining Ultra Electronics, Dr. Puryear was the Director of Cyber Strategy and Execution at the MITRE Corporation. In that role, Dr. Puryear was responsible for delivering impact in the cyber domain across MITRE's entire national security and public-sector work program.
He is accountable to develop and deliver world-class advanced cyber capabilities, including Cyber AI, Adversary Engagement, RF Network Security, Resilience Metrics, Cyber-Physical Convergence, and Distributed Networking, to address the most critical and sophisticated cybersecurity challenges facing the nation.
---
ABOUT ULTRA ELECTRONICS
Ultra is a specialist electrical and electronics engineering company— they operate mainly in defence and other highly-regulated markets and are focused on providing mission-specific, bespoke solutions and capability. Ultra has a strong reputation with customers for solving challenges and complex customer problems and needs.