THE CENTER OF GRAVITY FOR ENTREPRENEURS IN TEXAS
Agile2019 Conference Top 10 Takeaways
This year's AGILE2019 Conference, hosted by Agile Alliance, will attract over 2,200 Agilists from 40 countries to Washington, D.C. on August 5-9th. This conference is the largest event on Agile Software Development worldwide!
Can't be a part of the North American Agile tribes in Washington, D.C.? Don't worry!
Join Synerzip's leadership team, Hemant Elhence, Co-Founder & CEO, Vinayak Joglekar, Co-Founder & CTO, Florence Lowe, COO, and Mike Watson, VP Engineering, are attending many of the sessions and bring the key takeaways directly to you over dinner and drinks in Dallas, Austin, and Houston.
Agile2019 Top 10 TX Tour – Synerzip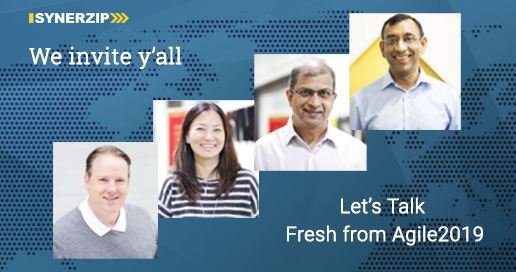 This year we are changing locations to The Capital Factory in downtown Austin. This center for entrepreneurship is a state-of-the-art facility. Check it out during our networking time at our event.
If you have any questions, please call Katherine @ 512.554.4767 or Jill @ 214.914.8513.