THE CENTER OF GRAVITY FOR ENTREPRENEURS IN TEXAS
Founders Stories with Jamie Catanach & Bob Fabbio
Founders Stories is a monthly series open to all entrepreneurs. From idea to exit or somewhere in the middle, we'll talk with startup founders about what it takes to start a successful company!
Every month we'll choose one founder to give their story– which includes their successes, failures and even the grey areas along the way.
This month, we will be featuring Jamie Catanach, Venture Associate at Capital Factory, and serial entrepreneur Bob Fabbio.
SPEAKERS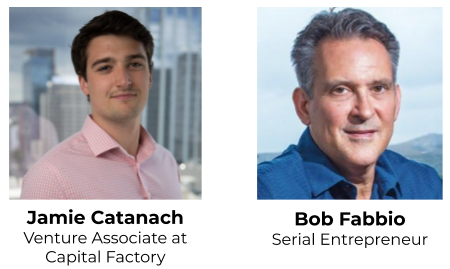 Jamie Catanach is a Venture Associate at Capital Factory where he sources companies for the Accelerator and Fund. A self proclaimed networking-nerd, he loves getting out into the community and meeting passionate entrepreneurs solving great challenges. Jamie's previous experience includes working for an early stage startup, called VisibleThread, and Oracle. Originally from Pennsylvania, he enjoys skiing, camping, and trying different tequila's.
Bob Fabbio is widely recognized as a visionary and serial entrepreneur. He founded and built multiple industry-leading healthcare and technology companies by identifying large emerging markets; gaining intimate knowledge of market needs; challenging conventional wisdom; and bringing targeted, innovative solutions to those markets.
Bob has functioned as a chief executive officer, board director and venture capitalist for over 30 years, with notable experience launching, funding, growing, advising, and operating innovative and category-creating companies. He has had a transformational impact on the software, systems technology and healthcare industries, resulting in the creation of over $1.5 billion of shareholder value at time of exit.
In recognition of his success building world-class businesses, Bob was awarded the Ernst & Young Entrepreneur of the Year Award in 1997, recognized in the 1999 Digital South Magazine list of "Most Influential People In the South's New Economy," and in 2002 was named to the Forbes Midas List of the "Top 100 Technology Venture Investors (technology's top 100 deal makers)." In 2013, he was inducted into the Rochester Institute of Technology Innovation Hall of Fame.
In 2006, Bob launched WhiteGlove Health, where he uniquely applied his technology background to address the many challenges found in the healthcare industry. Prior to WhiteGlove Health, Bob spent nearly six years in the venture capital industry with Austin Ventures and TL Ventures.
AGENDA
4:00 PM – Tour of Capital Factory
4:30 PM – Introduction
5:00 PM – Questions & Networking
ACCELERATOR
To apply for our next Accelerator, submit an application on AngelList!
INTERESTED IN A GENERAL CAPITAL FACTORY OVERVIEW?
This info session won't be for you. Check out one of our monthly AMA events or reach out to our Sales & Community Manager, Melissa Schwartz, at MelissaSchwartz@capitalfactory.com to learn more about getting a membership.