THE CENTER OF GRAVITY FOR ENTREPRENEURS IN TEXAS
Intro to the Austin Drone & Robotics Scene: Ask Me Anything with Shakeel Rashed and Colin Guinn
Are you new to the Austin Drone or Robotics community? Getting more serious with your startup? Trying to get a lay of the land? Come hear from expert Colin Guinn on his experience building numerous drone companies and his perspective on the Austin drone and robotics scene.
After the AMA, join us for happy hour! You'll have the opportunity to network with entrepreneurs who are interested in or are already part of the drone & robotics scene.
Already taken a tour of Capital Factory? Awesome! The event starts at 4:30PM after the 4PM tour.
Before you arrive, please take 5 minutes to read this to cover the basics: 10 Steps to Plug Into the Austin Tech Startup Scene
---
AGENDA
4:00 PM – Tour
4:30 PM – Overview of Capial Factory
4:45 PM – Overview of Texas' Drone & Robotics scene from Colin Guinn
5:10 PM – Q&A
5:45 PM – Happy hour
---
SPEAKER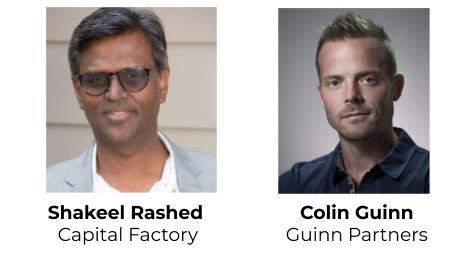 Shakeel has 20+ years in software business, and has seen many such emerging technology disruptions, from client-server to web to social, cloud to mobile to IoT, Data Warehouses to Data Sciences to Machine Learning/AI. He has worked in major industries, including Finance, Telecom, Healthcare and Pharmaceuticals, Consumer Goods, Advertising, Distribution, Retail, Oil and GasAdvisor and angel investor in many startups in TX with Capital Factory and rest of US with HBS Angels. Helping them from concept through multiple funding rounds. Shakeel loves collaborating with exceptional entrepreneurs on moonshot ideas in technology innovations and I am betting on startups that bring real value to enterprise customers from AI/Machine and Deep Learning.
Shakeel has a Bachelors of Engineering in Computer Science and Engineering from India, Masters in Management Sciences from George Washington University and completed the Program for Leadership Development from Harvard Business School.
Colin Guinn is a serial entrepreneur and high tech product development expert. He is currently the founder of Guinn Partners, an autonomous robotics and emerging technology consultancy and investor. Prior to this, he founded Austin startup Hangar Technology, after serving as Chief Revenue Officer at 3D Robotics and founder/CEO of DJI North America. Colin has product developed, invented, and/or holds patents for some of the most popular drones in the world, including the DJI Phantom, Zenmuse Gimbal systems, the 3DR Solo, and several others. He is one of the most interviewed experts on robotics and drone technology in the world, and provides product development guidance to startups and Fortune 500 companies alike. He has testified on the subject of commercial drones in a congressional hearing, has been featured at premier industry conferences, and in countless top-rated publications and newscasts, including 60 Minutes, CNN, Techcrunch, Forbes, and Fast Company. During his career developing drones, Colin has had the opportunity to teach many of the world's greatest technologists, artists and filmmakers about drones; including Elon Musk, Richard Branson, Jeff Bezos, Stephen Spielberg, Michael Bay, Carlos Slim, and countless others.