THE CENTER OF GRAVITY FOR ENTREPRENEURS IN TEXAS
Intro to Austin Start Up Scene & Ask Me Anything with Sean Duffy and Roger Chen
Fundraising for your tech startup? Come hear an overview from experienced entrepreneurs and angel investors, get a chance to introduce yourself, and ask questions at our Intro to Fundraising in Texas & AMA. You can check out the slides and video from previous talks before you come here. The content is updated each month because the startup scene is always changing!
Already taken a tour of Capital Factory? Awesome! This event starts at 4:30PM after the 4PM tour.
This months speakers are Roger Chen, Principal at Silverton Partners, and Sean Duffy, Senior Partnerships Manager at Capital Factory.
---
SPEAKERS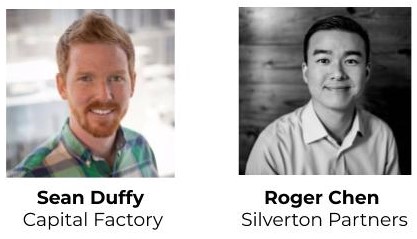 AGENDA
4:00 PM – Tour
4:30 PM – Fundraising Presentation
5:00 PM – Ask Me Anything with Venture Capitalists
6:00 PM – Fundraising Happy Hour
YOU'LL GET ANSWER TO QUESTIONS LIKE…
• How do I meet my first investors?
• Should I do an equity round or convertible note?
• Should I join an accelerator?
• How do I figure out my valuation?
• How long will it take to raise funding?
• What will it cost?
YOU WILL FIND OUT ABOUT…
• Capital Factory
• Texas Angel Investors
• Texas Venture Capitalists
• Texas Incubators & Accelerators
• Startup Lawyers
• Startup Banks
• Pitch Events
• AngelList
• Syndicates
• Angels vs. VC's
• CTAN
• Crowdfunding
• Blogs to read
PARKING
Please go here for more information about parking at Capital Factory.