THE CENTER OF GRAVITY FOR ENTREPRENEURS IN TEXAS
Intro to the Austin Startup Scene & Ask Me Anything: Cybersecurity with Sean Duffy and Chris Gerritz
Are you new to the Austin tech startup community? Thinking about moving here? Trying to figure out how to plug in? Come hear a comprehensive overview from local community leaders and get a chance to introduce yourself and ask questions at the next Intro to the Austin Startup Scene & Ask Me Anything!
After the AMA, join us for a startup scene happy hour. Your ticket will get you into the AMA and happy hour, where you'll have the opportunity to network with people who are interested in or are already part of the startup scene.
Before you arrive, please take 5 minutes to read this and cover the basics: 10 Steps to Plug Into the Austin Tech Startup Scene.
This month we are featuring Sean Duffy, Senior Partnerships Manager at Capital Factory and Chris Gerritz, co-founder and Chief Product Officer of Infocyte, Inc.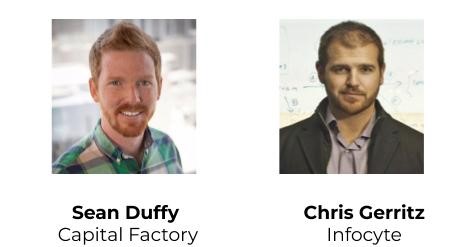 Sean Duffy is the Senior Partnerships Manager at Capital Factory, helping bridge the gap between startups and corporate innovators through strategic programming and community events. As a former classroom teacher, Sean is a passionate education and technology evangelist, community organizer and founder of EdTech Austin
Chris is co-founder and Chief Product Officer of Infocyte, Inc., a developer of proactive cyber security
solutions focused on breach discovery and threat hunting. Chris is a pioneer in defensive cyberspace
operations having established the U.S. Air Force's elite Defensive Counter-Cyber (DCC) practice. From a
decade of military service, Chris draws on both leadership and deep technical experience serving in
various roles such as cryptographic systems maintainer, cyber warfare officer and Air Force pilot.
Prior to co-founding Infocyte, Chris served as the Air Force CERT's first Chief of DCC Operations. In this
role, he led a team of 28 operators tasked with finding, tracking, and neutralizing state-sponsored threats
on the Air Force's $2B, 800k node enterprise network. He personally conducted and/or oversaw 350+
adversarial hunt, rapid response and threat engagement missions on networks throughout the world.
---
WHAT TO EXPECT
4:00 – 4:30 PM Tour of Capital Factory
4:30 – 6:00 PM Featured Speakers AMA w/ Moderator
6:00 – 7:00 PM Networking Happy Hour
---
YOU WILL GET ANSWERS TO QUESTIONS LIKE…
How do I get a job at a startup?
How do I find a co-founder?
How do I meet investors and mentors?
Should I join an accelerator?
YOU WILL FIND OUT ABOUT…
Why Austin?
Capital Factory
Startup Week
Angel Investors
Venture Capitalists
Incubators & Accelerators
Meetups
PR firms
Recruiting firms