THE CENTER OF GRAVITY FOR ENTREPRENEURS IN TEXAS
Intro to Fundraising & Ask Me Anything with David Matthews & Jill Klinvex
Are you an entrepreneur starting a new company? Recently moved your company to Texas? Fundraising for your tech startup?
Join us VIRTUALLY to hear an overview from experienced entrepreneurs, venture capitalists, and angel investors at our next Intro to Fundraising & Ask Me Anything! Get a chance to introduce yourself and ask any questions on funding and other related topics. This month we're focusing on fundraising in the retail tech industry!
---
Speakers: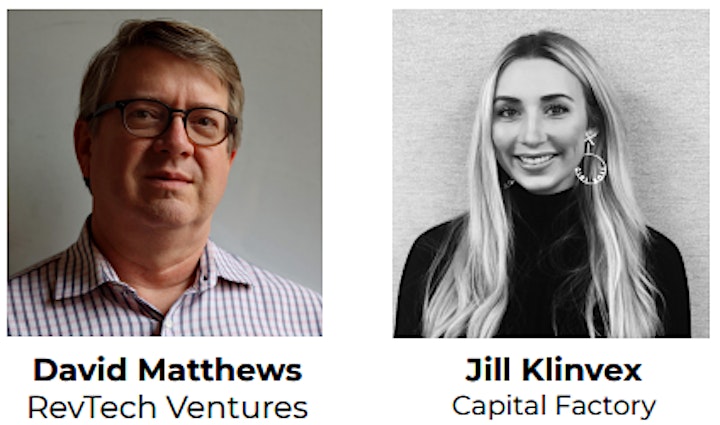 David Matthews has a background as an entrepreneur, a lead investor in emerging investment funds, and as a venture capitalist. As an entrepreneur, he launched several successful start-ups including Intelecon and Green Mountain Dallas. He brought the initial capital together to launch emerging private equity and venture funds such as Red River Ventures, Elm Creek Partners, Trailblazer Capital, and RevTech Ventures. As a venture capitalist, Matthews has led investments in dozens of early-stage entrepreneurial ventures. With RevTech, he created a mentor-led, seed fund and accelerator that has funded over 40 emerging retail technology innovators to date. His successful exits include Green Mountain Energy (sold to NRG), PeopleAnswers (sold to Infor), Spawn Labs (sold to GameStop), and OrderMyGear (recapitalized by SGE).
Jill Klinvex is a Senior Venture Associate at Capital Factory, the most active venture capital firm in Texas. In her role, Jill sources and invests in startup companies for Capital Factory's Accelerator and Investment Fund. She focuses primarily on minority and female-founded companies and to date, has over a 70% diverse portfolio. Prior to Capital Factory, Jill launched her career in venture capital at Loeb Enterprises, billionaire Michael Loeb's private family office in NYC. Jill's passion for venture capital is fueled by her desire to help historically underrepresented groups have access to capital in order to build the future of our world.