THE CENTER OF GRAVITY FOR ENTREPRENEURS IN TEXAS
Intro to the Healthcare Startup Scene & Ask Me Anything with Hubert Zajicek
Just launched a healthcare startup in Texas? Join us VIRTUALLY this month to hear how to plug into the Healthcare Startup Scene!
---
Are you an entrepreneur looking to start a healthcare company? Looking for ways to scale your healthcare startup? Want to find out how to connect with other entrepreneurs, mentors, and investors in the healthcare startup ecosystem?
Join us VIRTUALLY to hear an overview from experienced entrepreneurs, venture capitalists, investors, and community partners at "Intro to the Healthcare Startup Scene & Ask Me Anything with Hubert Zajicek!" Get a chance to introduce yourself and ask any questions on entrepreneurship and healthcare!
SPEAKERS: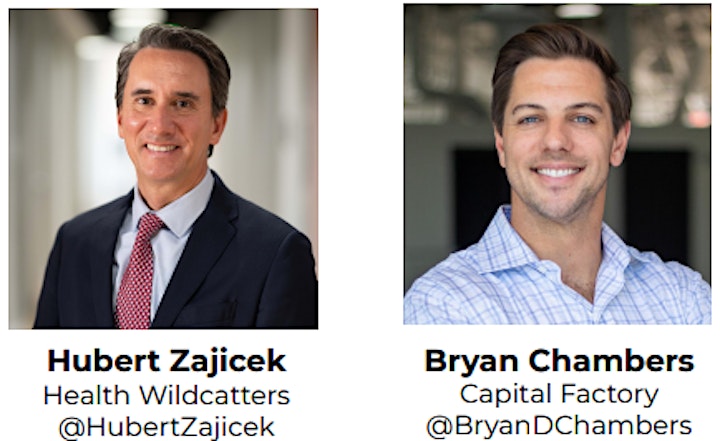 Hubert Zajicek is CEO & Co-founder of Health Wildcatters, a nationally top ranked healthcare accelerator and investment fund in Dallas. Health Wildcatters provides mentorship, capital and guidance to healthcare related startups. The accelerator raises an angel-investor backed health innovation fund that has invested in 69 healthcare startups – from over 25 states. These startups have attracted over $70M in capital in about 7 years and are valued at over a quarter billion dollars. Dr. Zajicek has extensive experience with startups and is an active speaker, panelist and thought leader on healthcare startups, entrepreneurship, financing & healthcare. He serves as an advisor, mentor and board member on various organizations and startup companies. He has an MD from the University of Vienna and an MBA from SMU.
Bryan Chambers has helped start, build, and sell technology companies and he actively invests in promising technology businesses. Bryan assists the Institute for Innovation and Entrepreneurship at UT Dallas by co-managing the Blackstone LaunchPad and designing experiential learning for its #11-ranked graduate entrepreneurship program. Bryan's passionate about challenging others to think very differently about what a "career" is and to explore entrepreneurship as a career path. He currently serves as the Vice President of Accelerator and Venture Fund at Capital Factory where he manages a team across the state of Texas that sources and evaluates technology startups for Capital Factory's programs and investment.