THE CENTER OF GRAVITY FOR ENTREPRENEURS IN TEXAS
Intro to FinTech & Ask Me Anything with Dennis Cail & Jill Klinvex
Join us as we host Dennis Cail, Founder and CEO of Zirtue & Jill Klinvex from Capital Factory to learn how to plug into FinTech in Texas!
---
Are you an entrepreneur starting a new company? Recently moved your company to Texas?
Join Capital Factory for a VIRTUAL Ask Me Anything about FinTech! This is a series that gives entrepreneurs an opportunity to hear from VCs, angel investors, and experienced entrepreneurs about the FinTech startup scene here in Texas.
Come introduce yourself and ask any questions on how to meet startups, investors, and people in the FinTech community!
Speakers: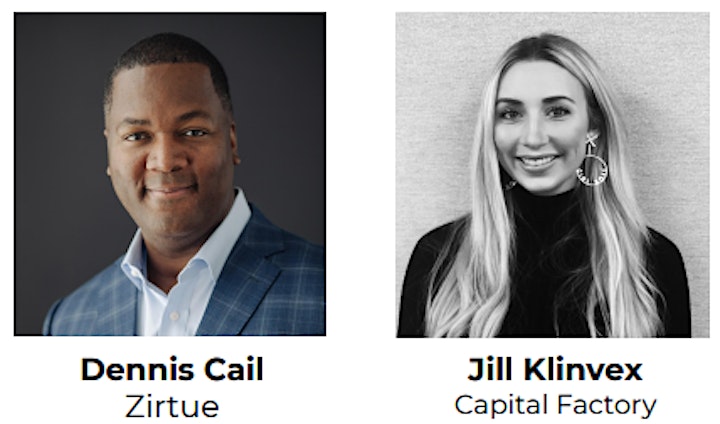 Dennis Cail is the CE0 & Co-Founder of Zirtue. Dennis is a FinTech technology executive and Navy Veteran with over 20 years of successful entrepreneurial experience along with a distinguished Multi-National Cross-Border M&A track record across leading FinTech, SaaS, business applications, and technology-enabled companies. Dennis led the M&A Delivery Team at PwC where he served as Managing Director and Co-Head of Application Integration. Prior, Dennis was Co-Founder and CEO of Uptown Financial Group where he oversaw the launch and scale of three business applications before successfully exiting. Dennis received a BS in Computer Science and MBA in Finance from Southern Methodist University Cox School of Business.
Jill Klinvex is a Senior Venture Associate at Capital Factory, the most active venture capital firm in Texas. In her role, Jill sources and invests in startup companies for Capital Factory's Accelerator and Investment Fund. She focuses primarily on minority and female-founded companies and to date, has over a 70% diverse portfolio. Prior to Capital Factory, Jill launched her career in venture capital at Loeb Enterprises, billionaire Michael Loeb's private family office in NYC. Jill's passion for venture capital is fueled by her desire to help historically underrepresented groups have access to capital in order to build the future of our world.