THE CENTER OF GRAVITY FOR ENTREPRENEURS IN TEXAS
Defense Innovation & AMA: Center for Autonomous Robotics with Colin Guinn
Join us for Capital Factory's Monthly Defense Innovation Ask Me Anything! You will hear a comprehensive overview from experienced professionals in the defense scene and also get a chance to introduce yourself and ask questions. This is your chance to learn about new defense opportunities, working with the government, defense fast track programs and much more.
This month we are featuring Colin Guinn, Founder of Guinn Partners, and Kevin Landtroop, Vice President, Defense at Capital Factory. Kevin and Colin will be discussing the Center of Autonomous Robotics.
The Capital Factory and Guinn Partners Center for Autonomous Robotics accelerates company and industry growth by fostering collaboration, innovation, and network expansion and provides an exclusive lab facility for product development and testing to give participants a previously unattainable advantage. CAR participants are pioneers in autonomy and are helping develop Austin, Texas into the nation's epicenter of land, air, and sea robotics.
SPEAKERS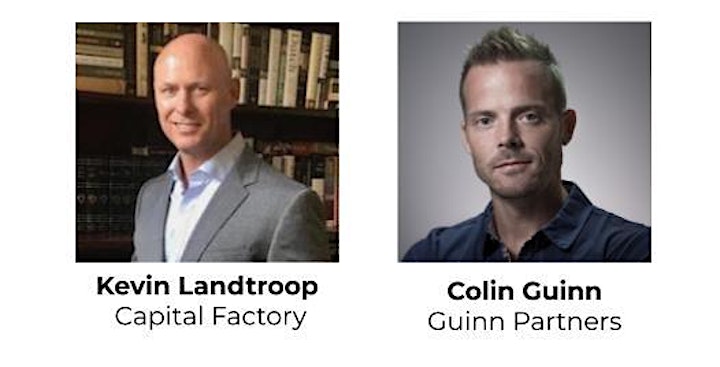 Kevin Landtroop is a cross-functional leader and entrepreneur with 20 years of operations and legal experience in National Security. Kevin founded Overmatch Materiel Advisors, LLC and Co-Founded the Texas Defense Innovation Forum to bring together his passion for National Security and desire to work inside the innovation ecosystem in Silicon Hills. As a Defense Venture Partner, Kevin connects early-stage companies on the bleeding edge with future-force technology requirements while helping Army Futures Command, Defense Innovation Unit, AFWERX, and other similar government and defense S&T organizations connect with startups.
Colin Guinn is a serial entrepreneur and high tech product development expert. As the founder of Guinn Partners, an autonomous robotics and emerging technology consultancy, Colin leads the team in strategic innovation, product development, and investment opportunities. Prior to Guinn Partners, Colin founded Austin startup, Hangar Technology, and served as Chief Revenue Officer at 3D Robotics and founder/CEO of DJI North America. He is one of the most interviewed experts on robotics and drone technology in the world; Colin has testified on the subject of commercial drones in a congressional hearing and has been featured at premier industry conferences and in top-rated publications and newscasts, including 60 Minutes, CNN, Techcrunch, Forbes, and Fast Company.
---
What to Expect
2:00 PM- Introduction to Capital Factory
2:15 PM- Overview of guest speaker background
2:45 PM- Audience Q&A
---
You'll get answers to questions like…
Why startups should work with the government.
What opportunities there are for your startup.
How contracting with the government works.
What is a "solicitation"?
How to be protect yourself against risks
Examples of successful startups
FedBizOpps
The FAR
Departmet of Defense – Defense Innovation Unit
US Army – Army Futures Command
Air Force – AFWERX
Special Operations – SOFWERX
Plus answers to your own questions!
---
You'll find out about…
Capital Factory
Department of Defense – Defense Innovation Unit
Government Contracts
Defense Innovation fast track programs
Incubators & Accelerators
Examples of successful startups that won government contracts